Products
Bebedouro PP
$0.00 USD
DESCRIPTION OF MANSA LIFE DRINK 2 LITERS POLYPROPYLENE
Components
Supply capsule, top (cup);
Base, Bottom;
Cup, place where the water is drunk;
Fixing nut;
Sealing ring (washer);
Anti-slip feet (already fixed).
Mounting instructions
1. Insert the ring (washer) into the barrel of the bowl (Figure 1);
2. Insert the bowl into the base. Important: The sealing ring must be on the outside of the base (Image 2);
3. Screw the retainer ring (nut) onto the barrel of the cup with your hand (do not use any tool) until it is firm (Image 3).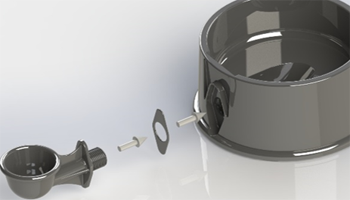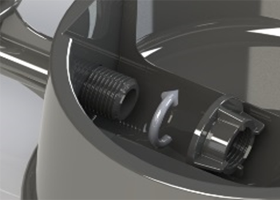 Image 1 Image 2
Filling Instructions
1. Remove the top (cup) from the drinking-water dispenser by pulling it up, rotate 180º (Image 1);
2. Fill the bowl with water at will (image 2);
3. Turn the bottom of the drinking-water dispenser (base) 180º up and attach the top (cup) (Images 3 and 4);
4. Turn the drinking-water dispenser 180º to return to the use position (Images 5 and 6);
5. Protected, clean, fresh water and at will, avoiding general wetting of the fur (Image 6).






Image 1 Image 2 Image 3 Image 4 Image 5 Image 6
About the product
Vida Mansa's drinking-water dispenser was developed especially for pets to drink water comfortably and at will, avoiding the wetting of those
that contain the long fur, beards and manes.
Intended for small and medium-sized animals, its greatest use is for dogs and cats, but attends all animals and even (pet) birds.
Vida Mansa's Light Line is made of PP Polypropylene, BPA-FREE product (BPA free). 100% recyclable material. Supply capacity of the bowl: up to
2 liters. Validity 03 (three) months.
Care
Always place the drinking-water dispenser in a place protected from the sun, so the water is always cool, this increases the equipment duration.
Preferably use filtered water to preserve your pet's health.
Avoid falls, especially when fully stocked.
For perfect functionality, always place it to the level of surfaces.
Wash with soap or detergent applied with a soft sponge and / or nylon brush.
Specifications
Indication Dogs and Cats, serving other pets
Breeds Small
Age Puppies, adults and seniors
Material Injected Polypropylene
Colors White, dark blue, blue baby, pink, green, red, yellow and orange
Net Weight 406 g
capacity 2 liters, filled to the brim, full
Measures mounted Length: 26,8 cm, Width: 18,5 cm, Height: 20,7 cm
Warranty 3 (three) months